SLEIGH / HORSE-DRAWN CARRIAGE RIDES in the TATRA NATIONAL PARK
- during the stay in Zakopane and the area it's worth to try a horse-drawn sleigh or carriage ride in the Chocholowska Valley.
Our sleigh (horse-and-carriage) rides are organized individually, on a day and hour chosen by the clients!
There are no limits in the number of participants required to organize our sleigh rides. We organize our trips for individual tourists as well as for the large groups.
BASIC ITINERARY of Discover Chocholowska Valley trip:(all trip takes about 2.5 - 3 hours)
pick up from your hotel, about 15 minutes taxi / minivan ride to entrance to the valley,
meeting the coachman,
one hour of sleigh (horse-and-carriage) ride up the Chocholowska Valley in the Tatra National Park,
short break in the mountain refuge with hot drink and a piece of cake included,
sleigh (horse-and-carriage) ride down the valley, back to the parking, meeting the driver and transfer back to the hotel.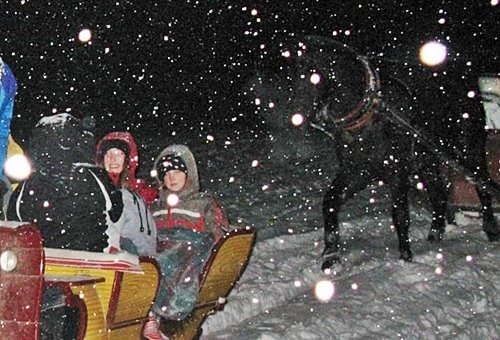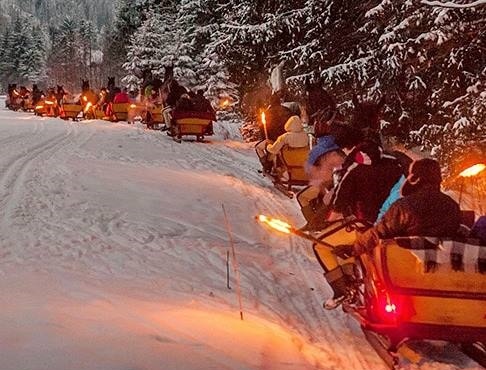 DISCOVER CHOCHOLOWSKA VALLEY (2.5 - 3 hrs) sleigh (horse-and-carriage)
ride in Tatra National Park
Taxi or minibus picking you up straight from your hotel and drive through the Zakopane and Kościelisko to the entrance of Chocholowska Valley, where you will start your sleigh (horse-drawn carriage) ride along the whole Valley. After one hour ride you will have 30 minutes break for a tasty snack served in the mountain refuge (an apple pie and tea, coffee, hot chocolate or soft drink). The horseman will wait for you near the mountain refuge. After you come back to the sleigh / carriage you will have a lovely, fast ride down the valley, to the parking where your driver will wait to drive you back to the hotel.
PRICE LIST (2019/2020):
Price including: transfers, 2 hours of sleigh (horse-and-carriage) ride, Tatra National Park entrance fee, drink and an apple pie with blueberries served in the mountain refuge
1 person (1 sledge / carriage) - 580 PLN
2 persons (1 sledge / carriage) - 640 PLN
3 persons (1 sledge / carriage) - 680 PLN
family 2 adults and 2 children (1 sledge / carriage) - 740 PLN;
family 2 adults and 3 children (at least one kid under 3) (1 sledge / carriage) - 750 PLN
4 persons (2 sledges / carriages) - 1.090 PLN
5 persons (2 sledges / carriages) - 1150 PLN
6 persons (2 sledges / carriages) - 1210 PLN
7 persons (3 sledges / carriages) - 1670 PLN
8 persons (3 sledges / carriages) - 1730 PLN
9 persons (3 sledges / carriages) - 1790 PLN
BOOKING:

to book Discover Chocholowska Sleigh / Horse-drawn Carriage Ride just fill in the booking form below please
date and time - according your wish, 7 days a week, morning hours recommended.
DISCOVER CHOCHOLOWSKA SLEIGH / CARRIAGE RIDE booking form:
Magical sleigh ride. I took my 74 year old father on this sleigh ride as it was something we had wanted to do whilst in Zakopane.Very easy to book, good clear instructions and the horseman met us at the entrance to the valley.We were given a lovely warm blanket and off we went on our ride through gorgeous snowy scenery to a lodge that served us hot chocolate and a yummy cake.The horseman told us that his father had also been a horseman and his son may also grow up to do this, nice to see traditions still alive in some places.The horse was well looked after which was also nice to see!Overall a magical experience in beautiful surroundings would totally recommend!
reviewed on Trip Advisor
We enjoyed a lot our sleigh ride in Chocholowska. I would like to thank the attention that you had with us. I have no doubt I'd repeat with you again (and with the same weather!!!!). The driver of the sleigh ride was very friendly too. I hope to repeat next year if we can visit Zakopane again!!!
Thank you very much!!! Dani
Thank you Barbara for the picture ad a fantastic day in Zakopane! We really enjoy everything about our visit and will be sure to tell all our friends
Garry and Michelle
TATRA VIEW and LIBRARY APARTAMENT
with bedroom (balcony!), kitchen, dinning room and bathroom; for 2-3 persons; well equipped; in the centre of Zakopane:
FREQUENTLY ASKED QUESTIONS:
What time is recommended to start the sleigh ride?
In my opinion the best time to start the sleigh rides in the Tatra National Park (Chocholowska and Kościeliska Valleys) are the morning hours (between 8.30 and 9.30am), before the valleys get crowded of walkers, hikers and other sledges.
What would be appropriate clothing on the sleigh ride?
Ski jacket and pants would be the best option, don't forget gloves and warm hat. The coachmen supply blankets that assist to keep you warm also.
Will any other people ride with us in our sleigh?
No, they won't.
Does your offer is the cheapest one in Zakopane?
No, it isn't the cheapest one, but I hope it's the best one:)
Should we expect any extra fees?
No, all the obligatory fees are included but you can of course buy some extra meals (or alcohol drinks...) in the mountain refuge.
Do the coachmen speak English?
Some of the coachman speak basic English and we are doing our best to employ them for our sleigh rides.