DUNAJEC GORGE RAFTING on the wooden rafts:
.: I'm sorry, this page has not been updated yet. It will be ready soon.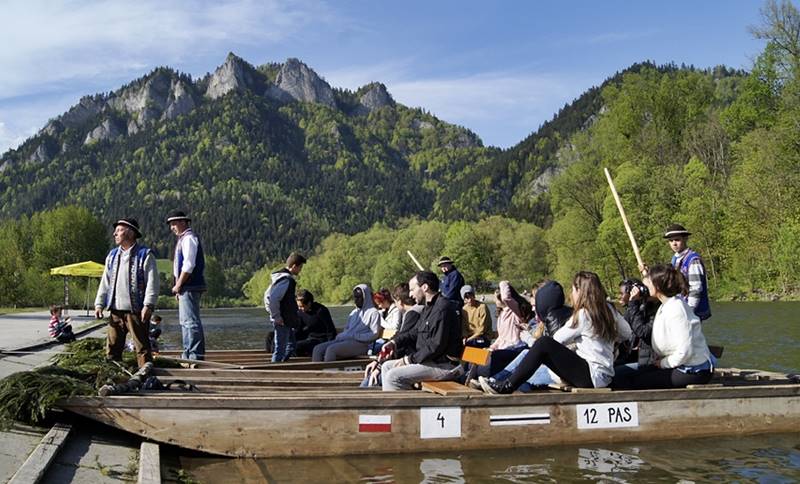 RAFTING down the DUNAJEC GORGE
.: Day Trip from Zakopane (and the area) to the DUNAJEC GORGE RAFTING on the traditional, wooden rafts - BASIC ITINERARY:
this is perfectly safe and leisure activity for everyone that takes place on traditional wooden rafts that have been in the operation in the area for centuries and were originally used for transportation of goods and people. The tour usually includes - an hour's drive in the Podhale and Spisz regions to the village of Niedzica, situated on the former Polish Hungarian border, where for a short break at the foot of the 14th century Hungarian castle, as well as the modern dam on the river, which is a nice view point. After this short break bus / minibus / van goes to Sromowce village where the rafting trip itself starts. The raft takes 12 people at a time and there are always two boatmen travelling down the river with you. Rafting takes approximately 2 - 2.5 hours (depending on the water level) and covers the distance of 18 km along the Polish Slovakian border to finally arrive at the former spa of Szczawnica. On the way back to Zakopane there is usually a short break in Debno Podhalanskie to see the XV century chapel - the only monument in our region which is on the UNESCO list. The whole trip takes about 7-8 hours.
Important! The order of attractions may change depending on the weather and the tourist traffic at the marina. On rainy days the Chapel in Debno Podhalanskie is closed for visitors.