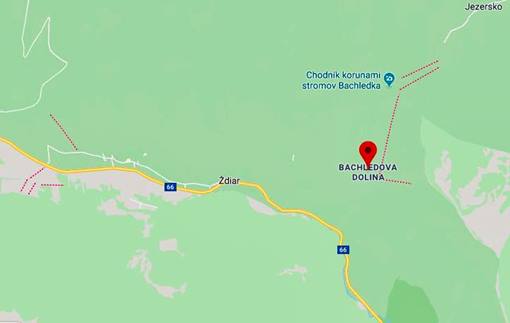 BACHLEDKA SKI & SUN SKI RESORT
Bachledka Ski & Sun ski resort offers excellent skiing conditions with a beautiful panorama of the Tatry Bielskie (White Tatras). Skiers and snowboarders can enjoy 12 ski slopes (in three connected ski valleys) of varying difficulty with a total length of 11 km. There is a gondola lift, chairlift and 5 T-bar lifts. For children, there is a kindergarten with a magic carpet ski lift. Additional attractions ofBachledka Ski & Sun is the famous Tree Top Walk (available for people on wheelchairs!). The path with a length of more than 1,234 meters built at height of 32-meter guarantees panoramic views and unforgettable emotions. Other attractions of the ski resort Bachledka are dedicated for kids - snowtubing, bobsleighing, playground and educational trail. The resort also has a ski and snowboard school, ski service, sports equipment rental, panoramic restaurant, buffets and an après-ski bar.
Important! Ski resort Bachledka Ski & Sun is covered with the Tatry Super Ski Pass. www.bachledka.sk/en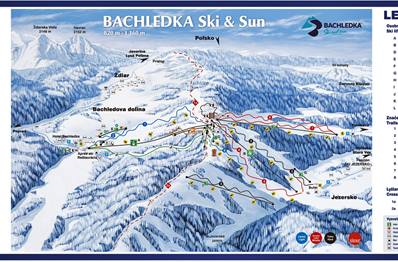 BACHLEDKA SKI & SUN
Bachledova Dolina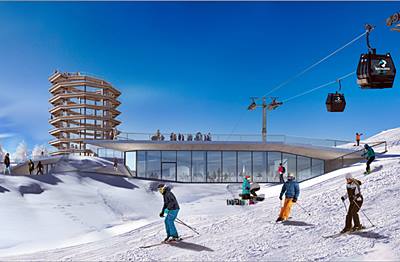 PANORAMIC RESTAURANT
Bachledka Ski & Sun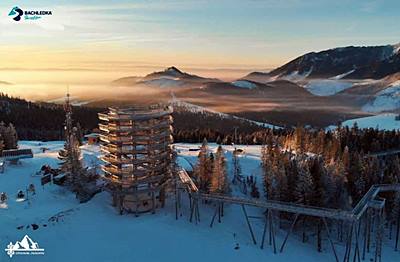 TREE TOP WALK
Bachledka Ski & Sun
WHERE TO STAY?
ACCOMMODATION in Zdiar and Bachledova Valley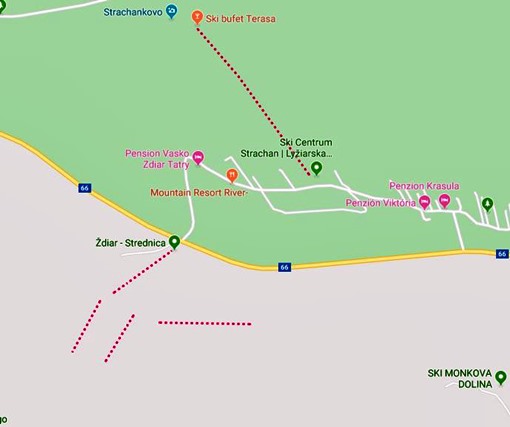 ZDIAR SKI RESORT
Ždiar is a small (1300 inhabitants), highlanders' village, picturesquely situated between the mountains of the Bielanske (White) Tatras and the Spiska Magura. This is a popular destination for tourists both in summer (start point for many hikes) and winter - three ski stations:
SKI CENTRUM STREDNICA - the biggest ski station in Zdiar. 9 T-bar lifts 80 to 460 meters long. The total length of the slopes is almost 5 km, half of which is technically snowed. Families with children can use the ski kindergarten. There is also a ski school, rental, ski storage and service / www.strednica.sk
SKI CENTRUM STRACHAN - a small ski station with one chairlift, two T-bar lifts, a ski park and a beautiful view of the Tatra Mountains / skicentrumstrachan.sk
SKI CENTRUM MONKOVA DOLINA - a small and hidden ski station with a beautiful view of the Tatra Mountains, located by the Magura hotel. One 260m long T-bar lift, ski kindergarten, sledge hill and cross-country ski run / www.facebook.com/skimonkova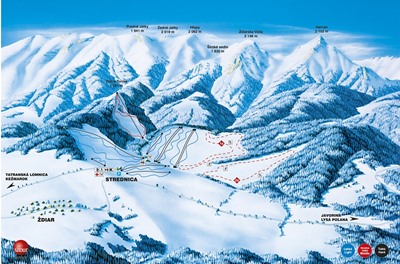 STREDNICA SKI CENTRUM
Zdiar - Strednica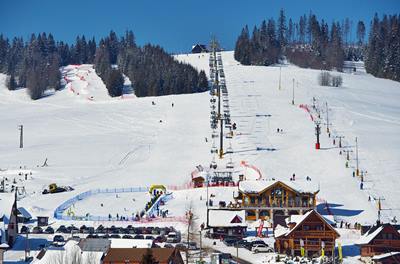 STRACHAN SKI CENTRUM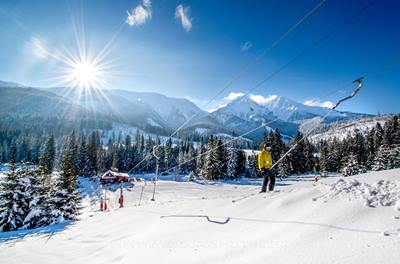 SKI MONKOVA DOLINA
Zdiar - Ski Monkova
WHERE TO STAY?
ACCOMMODATION in ZDIAR and BACHLEDOVA VALLEY