DISCOVER CHOCHOLOWSKA VALLEY (2.5 - 3 hrs) horse-drawn carriage ride in the Tatra National Park
During the stay in Zakopane and the area it's worth to try a horse-drawn carriage ride in the Chocholowska Valley. Our horse-drawn carriage rides are organized individually, on a day and hour chosen by the clients! There are no limits in the number of participants required to organize our horse-drawn carriage rides. We organize our trips for individual tourists as well as for the large groups.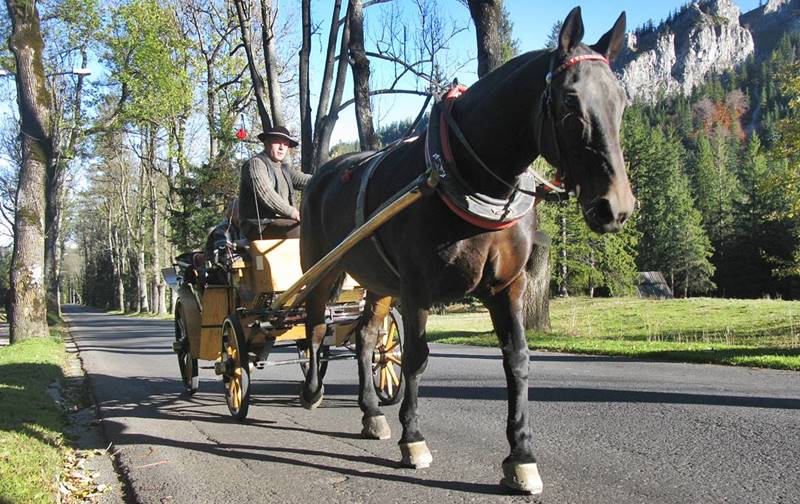 Taxi or minibus picking you up straight from your hotel and drive through the Zakopane and Kościelisko to the entrance of Chocholowska Valley, where you will start your horse-drawn carriage ride along the whole Valley. After one hour ride you will have 30 minutes break for a tasty snack served in the mountain refuge (an apple pie and tea, coffee, hot chocolate or soft drink). The horseman will wait for you near the mountain refuge. After you come back to the carriage, you will have a lovely, fast ride down the valley, to the parking where your driver will wait to drive you back to the hotel.

DISCOVER CHOCHOLOWSKA horse-drawn carriage RIDE
PRICE LIST (2019/2020):
Price including: transfers, 2 hours of horse-drawn carriage ride, Tatra National Park entrance fee, drink and an apple pie with blueberries served in the mountain refuge
1 person (1 carriage) - 580 PLN
2 persons (1 carriage) - 640 PLN
3 persons (1 carriage) - 680 PLN
family 2 adults and 2 children (1 carriage) - 740 PLN;
family 2 adults and 3 children (at least one kid under 3) (1 carriage) - 750 PLN
4 persons (2 carriages) - 1.090 PLN
5 persons (2 carriages) - 1150 PLN
6 persons (2 sledges / carriages) - 1210 PLN
7 persons (3 carriages) - 1670 PLN
8 persons (3 carriages) - 1730 PLN
9 persons (3 carriages) - 1790 PLN
BOOKING: to book Discover Chocholowska horse-drawn carriage ride please fill in the booking form below: