FESTIVAL of HIGHLAND FOLKLORE
.: Festival of Highland Folklore in Zakopane is the most important cultural event organized in Zakopane every summer, since 1965. In the beginning, the folk groups were just a small element of a wide ranging programme. In September of 1965 four local groups performed on the stage of the Giewont cinema to great acclaim. The organizers realised that the success of these performances indicated a great interest in folklore and tradition, paving the way for a successful future attraction in Zakopane. And this is precisely what happened. In 1968, folk groups from other countries were invited to take part alongside their Polish counterparts, thus the first truly international festival was born. Initially all the folk groups competed in one single category and vied for one prize - the golden Highlanders axe. However, immediately following this first competition the judges realised that there were considerable differences in style amongst the various folk groups. They recommended a review of the competition regulations. The esteemed ethnographer, Roman Reinfuss, was enlisted to assist with these changes. He introduced a system of three separate competition categories.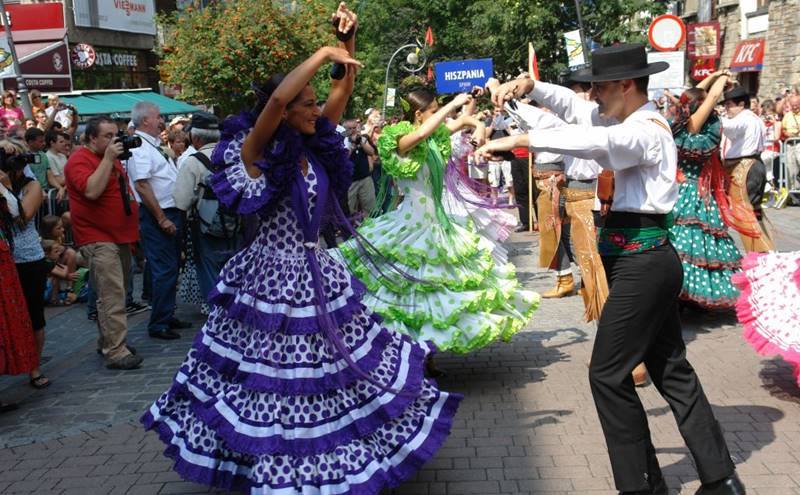 51st International Festival of Highland Folklore in Zakopane 16 - 24 August 2019
The festival tent, festival village and outdoor stage are located on the Lower Rówień Krupowa. Admissions to all events are free of charge, but for the opening and final concerts "On the Folk Note" you need free entrance ticket that can be picked up at Tourist Information Centers at Koscieliska 7 Street and Kosciuszki 17 Street. The number of tickets is limited!
Recommended events of the 51st International Festival of Highland Folklore in Zakopane:
The full programme of festival (in Polish) is available www.festiwale.zakopane.pl
Festival Village / Lower Rówień Krupowa: Folk Art and Craft Craft Fair
18-23.08 - every day from 10:00 to 18:00
August 16, Friday
11.00 - the championships of the horse-drawn carriages' coachmen / at Gorna Rowien Krupowa
August 17, Saturday
14.00 - Concert of Mali Górale (Little Highlanders) - festival village - outdoor scene, Dolna Rówień Krupowa
17.30 - Wedding procession from the Plac Niepodleglosci to the festival village
18.00 - Traditional highlander wedding - festival village - outdoor scene, Lower Rówień Krupowa
19.00 - Singing Zakopane (Rozśpiewane Zakopane) - having fun together with the wedding guests - festival village, Lower Rówień Krupowa
August 18, Sunday
10.30 - a Holy Mass at the Church of St. Krzyża, ul. Zamoyskiego followed by the parade of all teams through the Zamoyskiego and Krupówki streets
13.30 - Exhibition of the Polish Tatra Sheepdogs - festival village, Dolna Rówień Krupowa
18.00 - INAUGURATION CONCERT (free tickets to be collected at Tourist Information Centers) festival tent, Lower Rówień Krupowa
August 19, Monday
12.00 - International Competition of Folk Bands, Instrumentalists and Singers named after Władysław Trebunia-Tutka / festival village - outdoor scene, Dolna Rówień Krupowa
17.00 - Competition concerts: MACEDONIA, UKRAINE, POLAND (Wierchy), NEPAL / festival tent, Dolna Rówień Krupowa
20.00 - Competition concerts: POLAND (Skalnik), SERBIA / festival tent, Dolna Rówień Krupowa
21.30 - Dancing Party for everyone with festival groups / festival village - outdoor tent, Dolna Rówień Krupowa
August 20, Tuesday
12:00 International Competition of Folk Bands, Instrumentalists and Singers named after Władysław Trebuni-Tutka / festival village - outdoor scene, Dolna Rówień Krupowa
15.00 Ukrainian National Day / festival village, Dolna Rówień Krupowa
17.00 Competition concerts: BULGARIA, POLAND (Śwarni), SLOVAKIA / festival tent, Dolna Rówień Krupowa
20.00 Accompanying concerts: HUNGARY, TURKEY / festival tent, Dolna Rówień Krupowa
21.30 - Dancing Party for everyone with festival groups / festival village - outdoor tent, Dolna Rówień Krupowa
August 21, Wednesday
12:00 International Competition of Folk Bands, Instrumentalists and Singers named after Władysław Trebuni-Tutka / festival village - outdoor scene, Dolna Rówień Krupowa
15.00 Macodnian National Day / festival village, Dolna Rówień Krupowa
17.00 Competition concerts: HUNGARY, POLAND (Kyczera), TURKEY, ITALY / festival tent, Dolna Rówień Krupowa
20.00 Accompanying concerts: Carpathian music and highlander wedding fashion show / festival tent, Dolna Rówień Krupowa
21.30 - Dancing Party for everyone with festival groups / festival village - outdoor tent, Dolna Rówień Krupowa
August 22, Thursday
12.00 - concert of winners of the International Competition of Folk Bands, Instrumentalists and Singers named after Władysław Trebuni-Tutka / festival village - outdoor scene, Dolna Rówień Krupowa
13.30 Polish Highlanders' Day. Record in zbójnicki dance / festival village - outdoor scene, Dolna Rówień Krupowa
17.00 Accompanying concert / festival tent, Dolna Rówień Krupowa
21.30 - Dancing Party for everyone with festival groups / festival village - outdoor tent, Dolna Rówień Krupowa
August 23, Friday
17.00 FINAL CONCERT Highlanders of the World. Announcement of the results of the competition and awards ceremony / festival tent, Dolna Rówień Krupowa