BIALKA TATRZANSKA SKI RESORT
.: Bialka Tatrzanska / 23 km from Zakopane / www.bialkatatrzanska.pl
Bialka Tatrzanska ski resort is the best one in Poland, with nice slopes, modern ski lifts, friendly staff, very good instructors and lovely views over Tatras. The only disadvantage of this ski resort is that during the high season it is very overcrowded. If you are going to ski in Bialka T. during the New Year or school holidays period I suggest going there early morning to escape from the most popular slopes near the parking area before thousands of other skiers and snowboarders will come.
There are 3 main ski stations in Bialka Tatrzanska - Bania, Kotelnica and Kaniowka. In recent years, they have all been connected with a network of chairlifts.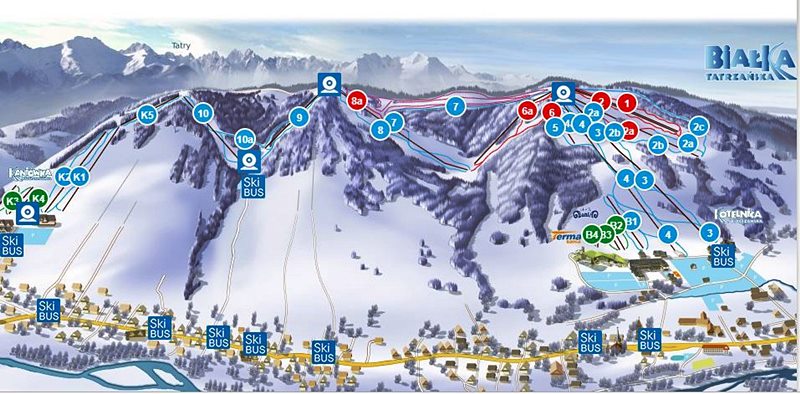 SKI LIFTS IN BIALKA TATRZANSKA
only green-marked slopes have T-Bar lifts, all others are modern chairlifts.

No.
Level of difficulty
Length

[m]

Altitude
difference

[m]

Man-made
SNOW
Lighting

2 (FIS)

for advanced
900
185
YES
YES

2a

for advanced
1070
175
YES
YES

2b

for intermediates
1160
175
YES
YES

2c

for intermediates
1600
175
YES
YES

1 (FIS)

for advanced
780
155
YES
YES

3

for intermediates
1480
210
YES
YES

4

for intermediates
1430
200
YES
YES

4a

for intermediates
350
65
YES
YES

5

for intermediates
350
60
YES
YES

6

for advanced
710
155
YES
YES

6a

for advanced
650
155
YES
YES

7

for intermediates
1900
155
YES
YES

8

for intermediates
1200
175
YES
YES

8a

for advanced
500
100
YES
YES

9

for intermediates
900
150
YES
YES

10

for intermediates
950
175
YES
YES

10a

for intermediates
920
175
YES
YES

B1

for intermediates
380
60
YES
YES

B2

for beginners
190
20
YES
YES

B3

for beginners
110
10
YES
YES

B4

for beginners
110
10
YES
YES

K1

for intermediates
470
90
YES
YES

K2

for intermediates
450
90
YES
YES

K3

for beginners
200
20
YES
YES

K4

for beginners
65
5
YES
YES

K5

for intermediates
400
53
YES
YES
Ski slope for beginners: 5 green-marked ski slopes.
Ski slope for intermediates: 15 blue-marked slopes
Ski slope for advanced: 5 red-marked ski slopes
Ski passes: SKI PASS TATRY SUPER SKI
Ski school: yes, English speaking ski and snowboard instructors, ski and snowboard courses for kids and adults;
Kindergarten: yes;
Ski rental: yes, several;
Ski clothes rental: yes;
Man-made (artificial) snow: yes, there are many snowmaking cannons on the slopes;
Slope lighting: yes; in high season slopes are open until 10pm;
Restaurant: yes, several - one on the top of the chairlift 3 which is available also for non-skiers;
Parking: yes, free car park;
How to get to Bialka Tatrzanska from the centre of Zakopane: by local minibuses - frequent departures from the bus station in Zakopane / by taxi (aprox 30-40 Euro)